Grafting in Pattern
So before starting this, I should mention that while this is easier than Kitchener and less likely to go all awry by dropping your stitches off your needle it is probably something you should do in a well lit quiet space. At least the first time this is probably not the sort of thing you should do while you're on watch on a pitching deck (or on the commuter bus). Upon figuring this out pretty much everyone declares "I'll never Kitchener again!" or "That's so easy!" so take heart. That said the first few stitches are really tricky while you're getting the hang of it. Definitely worth it though to toss your cap to another knitter and say "Find where I joined this band!" On my hat they keep picking a row with particularly bad tension on the completely wrong side.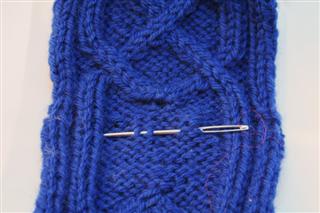 For purposes of this demo we're using the band from a
Carrick Bend Cap
, knit in navy wool. The selvages are in a very slippy purple sport weight acrylic. Slippy yarn makes a great selvage yarn because it is easy to pull out and less likely to leave contrast-colored fuzzies. It is also handy if it is a bit smaller in diameter. We used sport selvage with worsted yarn. We grafted the whole thing in slippy pink acrylic so you can see the graft. It was then re-grafted in navy wool so you can see the final effect in photos.
Tension is important but fixable. Most people have a tendency to try and graft too tightly. Go a little loose, maybe a lot loose. it is easy enough to work the excess out before weaving in your final end. If you can get it to match your original tension the seam will be basically invisible. The grafted row in this photo is the one immediately above the one with the needle in it.
It is critical that you get your stitches lined up correctly when you start this and that you don't lose track of where you are while grafting and get off half a stitch. If it suddenly seems hard to do, you're probably off half a stitch. Or if it isn't perfect to nearly invisible you're off. Pick out a few stitches and you will likely see where you went awry. I find that variegated yarn makes a nice selvage to follow because the color changes make it easy to keep track of where you're at and not miss things.
Once you're happy with it's appearance you can just weave in the end.